Why You Need A Website For Your Small Business
Launching a small business can seem like a daunting feat, knowing there are several other larger, more established businesses out there, but there are ways that a small business can flourish and they can achieve partly this by having a website. In this article, we will be exploring why you need a website for your small business.

Having an excellent website instantly boosts your credibility as a legitimate business. First impressions count, and websites allow you to make a powerful impression with a well-designed introduction for your business.
A website can help showcase your expertise and better position your business.
You may resist building one for your business because of some few reasons like;
"I'm not tech savvy",
"they're too expensive",
"I don't have the time",
or the infamous "I have enough business and I don't need one".
You don't need to be tech savvy. Getting a professional website for your business can be affordable and easy, and to make it even simpler for you—not having a website is costing you time and money.
Today, the number of people who use the internet to find businesses has increased manifold and yellow pages have been reduced to dust.

Anita Smart
In 2017, 97% of people searched online to find a local business near them.
Therefore, if you want to grow your business by being in front of the right audience, you need to be found online—implying you must have a website.

Of the 7.4 Billion people in this world, 3.5 Billion people or 47% are online every day. They are searching for information, sharing on social media or shopping on e-commerce websites.

We expect this number to grow as the world becomes increasingly dependent on mobile technology to search the Internet. Today there are about 2.3 Billion smartphones worldwide. But in 2023, we expect the total number of smartphones to hit 6.1 Billion.

If your small business does not have a website, you will undermine its ability to generate income. And not just any website; but a mobile, responsive website, one that mobile devices can access, such as smartphones and tablets. Statistically, 65% of online traffic comes from mobile devices.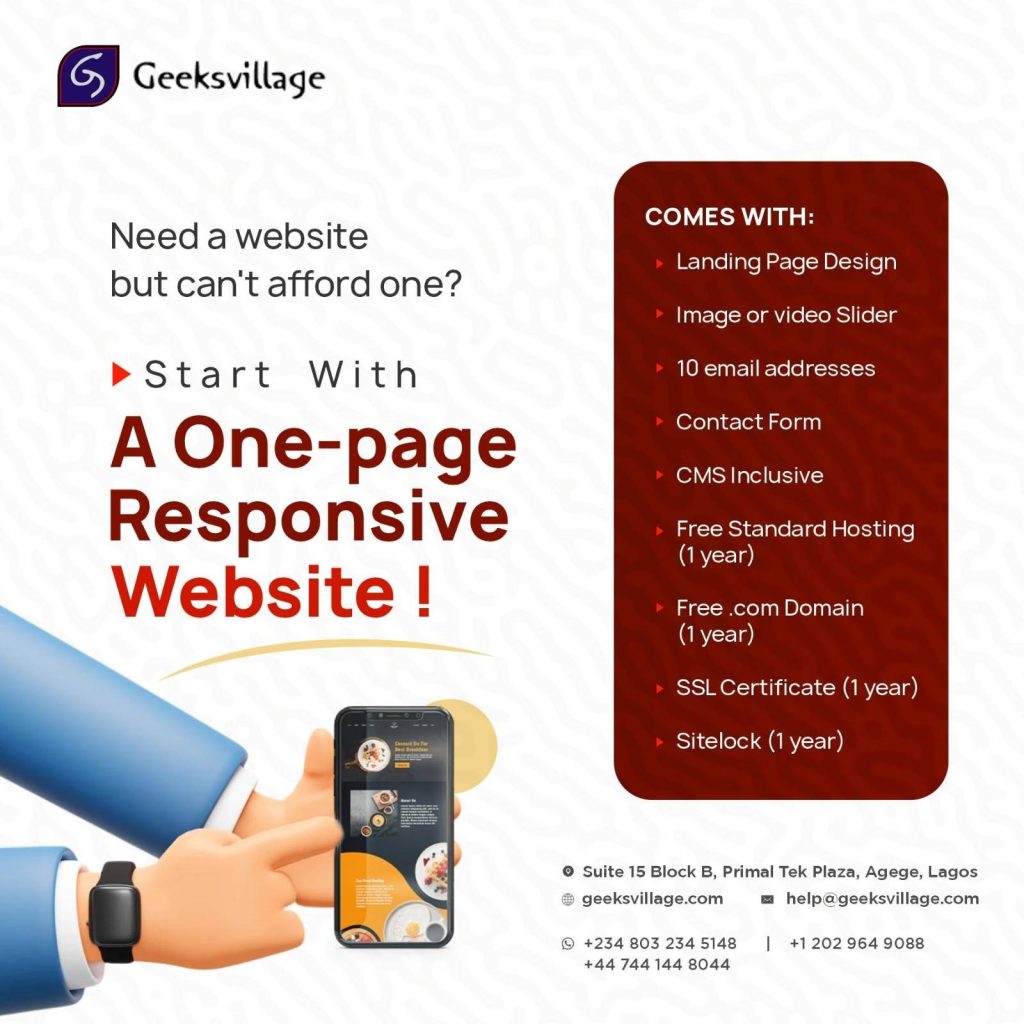 Here are some benefits why you Need A Website For Your Small Business
1. Website For Your Small Business helpsImprove Business Credibility:
A simple way to view a website is that it is your online business address. This is where your customers, clients and associates go to find you on the Internet.
The Home page identifies your branded value proposition, the About Us page tells visitors all about your business and the Contact Us page informs everyone how to get in touch with you.

It legitimizes your business and improves your credibility. It gives your business an identity and is a virtual proof that it exists.
Having a website means you have your own domain. In the same survey, 65% of respondents regard a company-branded e-mail as more credible than a generic one.
2. To Advertise Your Products And Services:
Having a website for a small business enables the effective advertising of both products and services to today's digital consumers.
Tools like Google AdWords or advertising on Facebook give you the power to reach customers with much more accuracy and reliability than with traditional offline advertising methods. SEO and online advertising are a great way to help build up awareness. If it's done correctly, traffic to your website can see an increase.

Be the first company that a potential new customer sees when searching for a specific product or service online and use your website's contact page or e-commerce features to make purchasing a product or finding a retail outlet easier than ever before.
3. Consumers Can Find You Within:
Many consumers nowadays look for vendors that are close to where they live. So by having a website for a small business listed locally, those in the area and the environs will find you.
You can integrate your website with Google Maps so people can find you more easily.
A website lets you embed maps directly into your content.
An embedded map makes it easy for people who don't spend a lot of time in your area to find your business. This is great if you host events, as they might attract people who wouldn't otherwise spend time in the neighborhood your business is in.
4. Inexpensive Marketing:
One of the enormous benefits of having a website for small business is the fact that it is a cost-effective way of marketing. Once your website is built and launched, it is available for the online world to see.
5. Website For Your Small Business helps Attracts Consumer Attention:
Modern consumers do much of their purchasing via online websites, so by having a website for your small business, you are tapping into a different demographic of potential buyers.
While you might already have an established customer base, a website is a surefire way to connect with new customers who might be unfamiliar with your business.

More often than not, people turn to the internet when they have a problem.
Searching for solutions is easy — but is your business a potential problem solver? With a professional website, you position your business as a solution to your customers' needs.
Plus, you can optimize your site with search terms related to your industry. This will expose your business to new customers on the prowl.
6. Website For Your Small Business Helps Provide A Competitive Edge:
A website can help any small business leverage their online success to rival that of large businesses. Makes you stay ahead of the competition or at the very least, keep pace with the competition.
It will not look good on your brand if your competition has a website and you don't. 

More than branding concerns, not having a website gives you one less stream of revenue to help your business stay profitable. 
7. Website For Your Small Business helps Professionalize Your Brand:
Many small business owners make the mistake of not working on their brand until they gain traction.
Start working on your brand before launching your business. The brand gives your business its identity and makes it easier for customers and clients to understand what it is all about.
It places your branded value proposition front and center in the Home page.
Website optimization techniques can help Internet users find your brand. It can be distributed seamlessly through various online channels.
A professionally made website shows you are serious about your business branding.

Effective business branding should include a website, as today's consumers do most of their research and buying through online sites.
8. Keep Track of Your Business in Real Time:
One of the most significant benefits of having a website for a small business is that you can keep track of its performance in real time through the use of analytics.
Analytics will provide you valuable data on how your business has been moving within a period. Key indicators of business performance include the following metrics:
– Number of visitors going to your website.
– Number of "unique visitors" or those who visit your website only once.
– Page views or impressions tell how many times a page has been read or visited.
This will give you an idea of which type of content visitors find interesting.
9. Ability To Provide Products Around The Clock:
It keeps your business Open 24/7. With a website, anyone with an Internet connection can access your business.
Prospective customers can view your products, testimonials, and read your content before they decide to buy.

A significant advantage to having a website for any small business is the fact that products can be sold to consumers 24×7. Which is not only convenient for consumers, but fair as well for any small business wishing to boost conversion rates.
10. Website For Your Small Business helps Boost Your Reputation as an Authority:
If your business is in a competitive industry, a website will give you the forum to boost your reputation as an authority figure.
The website is your platform on the Internet and is the place where you will be heard and have 100% full control over your content. 
11. Website For Your Small Business makes it easy to Display reviews and testimonials of customers
You can display your best reviews and testimonials prominently on your website.
Displaying your best reviews and/or testimonials prominently on your website is a great way to establish social proof.
This might come as personal customer testimonials.

Publishing your best reviews on your website also serves the secondary purpose of creating a permanent archive. This means that even if third-party review sites close in the future, you'll still have access to your best reviews.
12. Website For Your Small Business helps Increase Customer Service
With an in-person business, your customer service can only be available during the hours you're open. People can make phone calls, email your business, or drop in to ask questions they might have.
However, with a website, you can increase your customer service and answer inquiries in a timely manner. One of the top benefits of having a website is that you can invest in customer service to be available 24/7.

In conclusion, there are lots of benefits of having a website for your small business and it would be a mistake for any small business to not have one these days, as online research and sales are dominating the world of commerce.
A website is not an expense. It is an investment because you should expect a return on your money within a period.

For your investment to pay out, make sure your website is professionally designed, fully functioning with fast download speed and packed with great content.

If you want a website for your small business, contact us today.